Today I'm sharing my modern Christmas entryway for my first holiday home tour of the season! I used merry and bright colors of pinks and blues for my foyer Christmas decor. Come on in and check out my modern Christmas decor ideas and hopefully leave inspired to create your own colorful Christmas in your home!
This post is sponsored by Mohawk Home.
*This post contains some affiliate links for your convenience. Click here to read my full disclosure policy.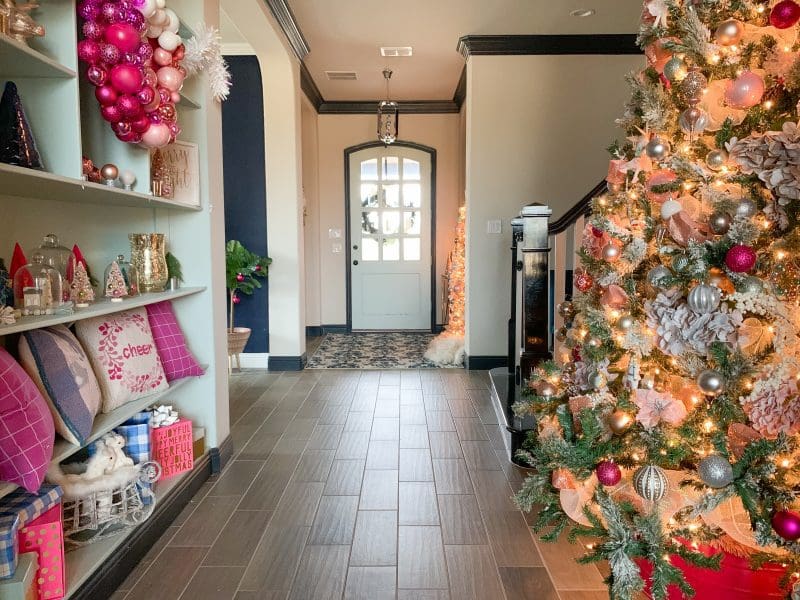 Modern Christmas Entryway | Holiday Home Tour
Welcome to my first holiday home tour of the season!
I'm so excited to share with you my entryway and foyer areas of my home all decked out in colorful + modern Christmas decor. Have y'all started decorating your home for the holidays? This week of Thanksgiving is the perfect time to get those boxes down from the attic and sprinkle Christmas cheer throughout the house. I hope you are inspired from my holiday home tour showcasing my modern Christmas entryway decor!
Foyer Christmas Decor Ideas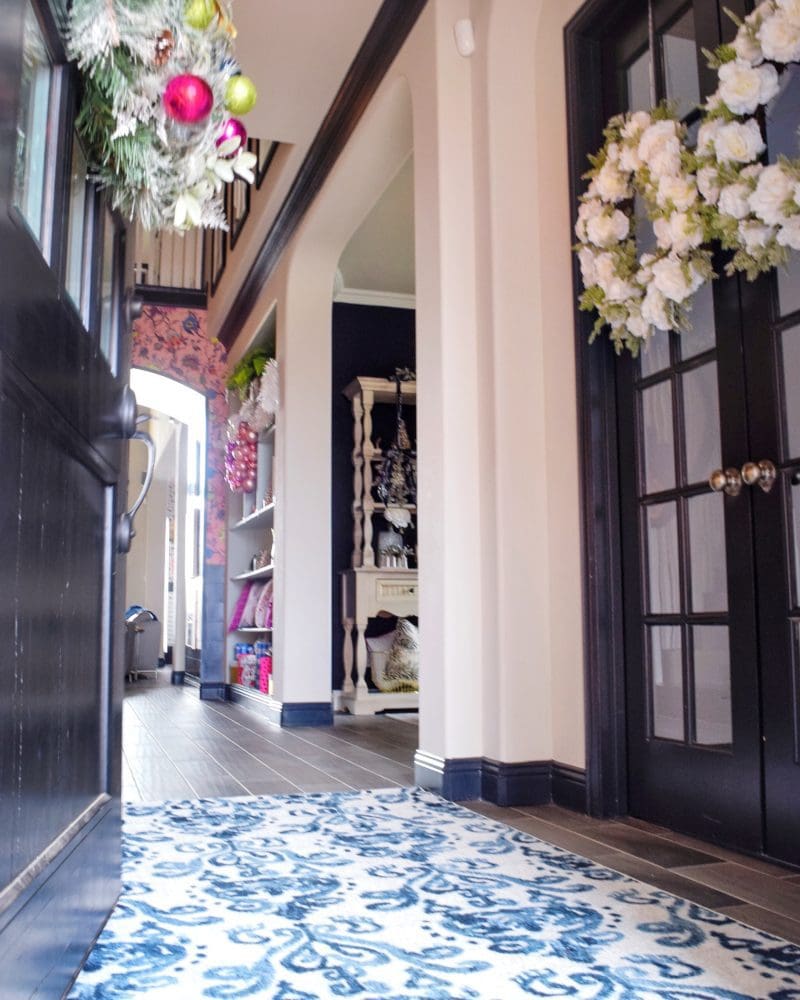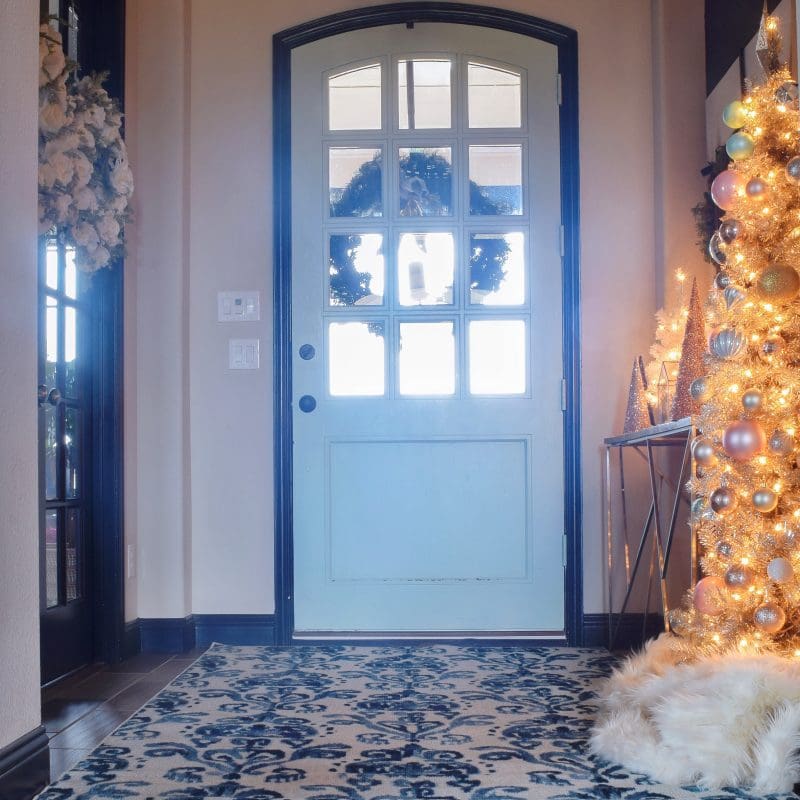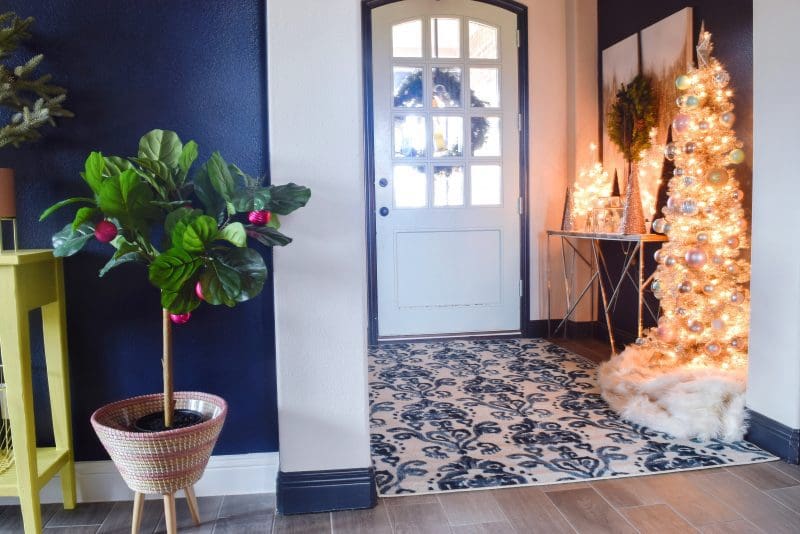 This is the view of my home when you first walk in the front door. I wanted our guests walking in to immediately feel the festive holiday vibe! I don't usually decorate the double french doors to the right of the front door, but I love how hanging these double Christmas wreaths frames out the office doors.
A new addition to our foyer decor is this beautiful navy and white rug from Mohawk Home. Isn't it so pretty? I wanted to add touches of navy to our entryway and I love how our new entryway rug compliments our dark trim and dark french doors. We also have painted navy accent walls throughout the foyer and dining room and the rug help ties all the rooms together!
Christmas Entryway Table Decorating Ideas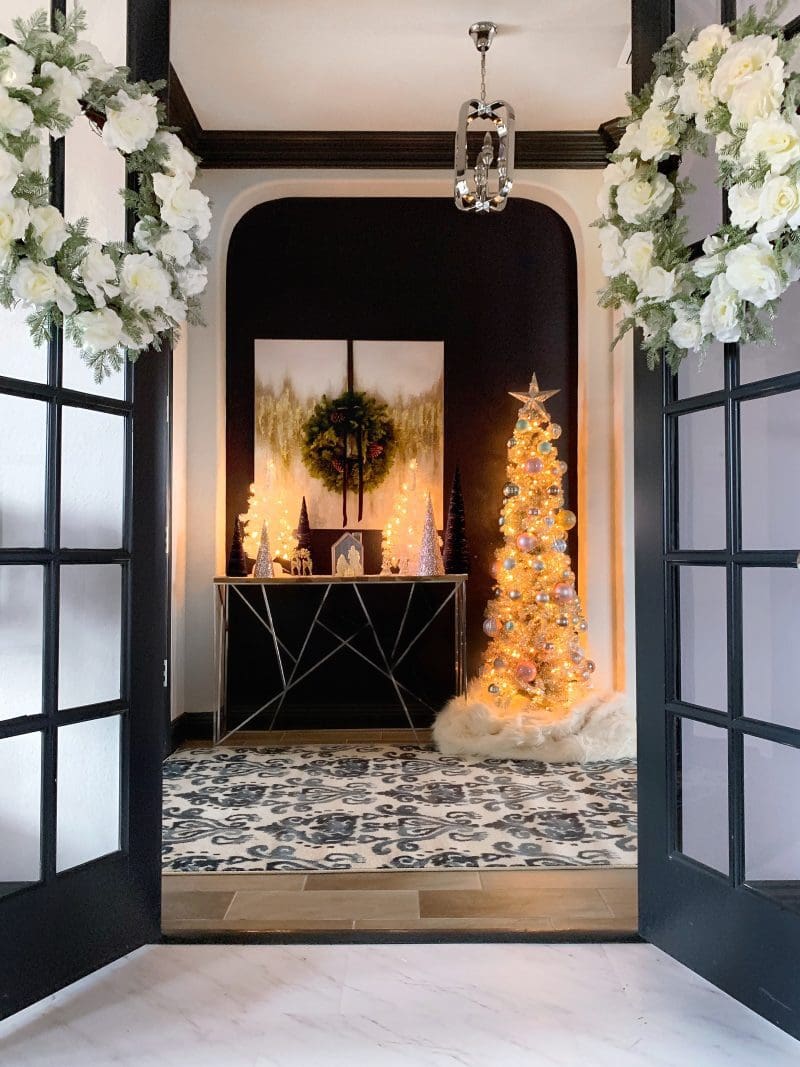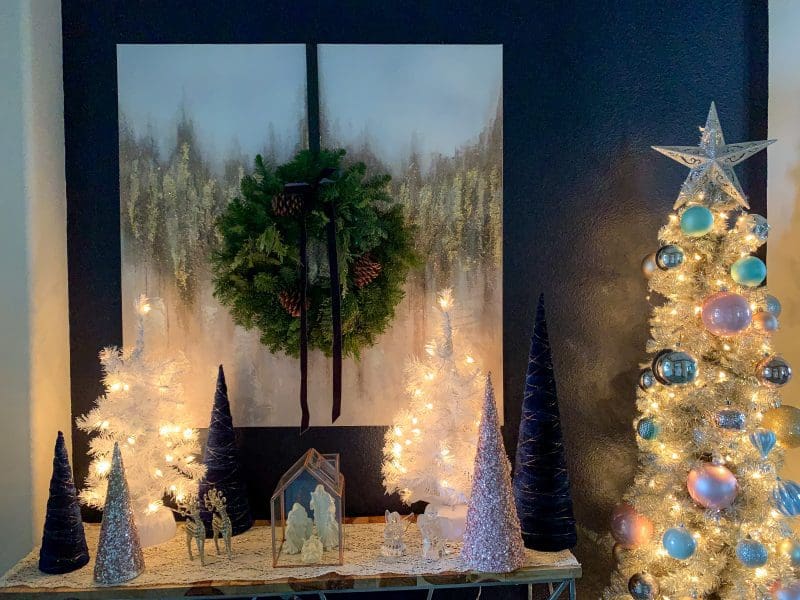 I love decorating our entryway table with Christmas decor for another holiday focal point. I placed our skinny rose gold Christmas tree next to the entryway table, and I love how you can see the sparkly twinkle lights shining through the front door. I used a modern Christmas color scheme for the entryway using rose gold, navy, blush, and white holiday accents. One of my favorite finds are these shimmery rose gold and blush Christmas cone trees. The colors are so pretty and chic – and mix perfectly with my modern Christmas decor.
I also like to use chunky blankets to wrap around my Christmas trees instead of traditional tree skirts. I shared my DIY tutorial on making your own faux fur blanket tree skirt last year – I love the added textures it brings to the entryway and how it drapes over the entryway rug.
Modern Christmas Decor Ideas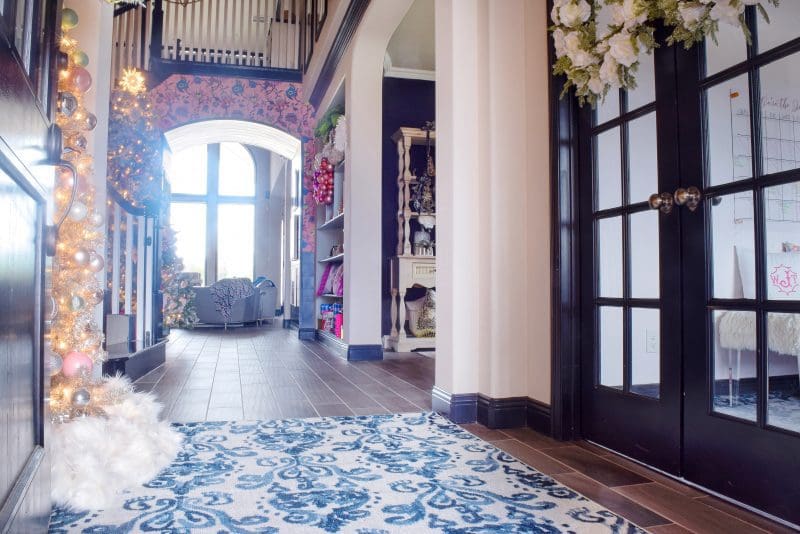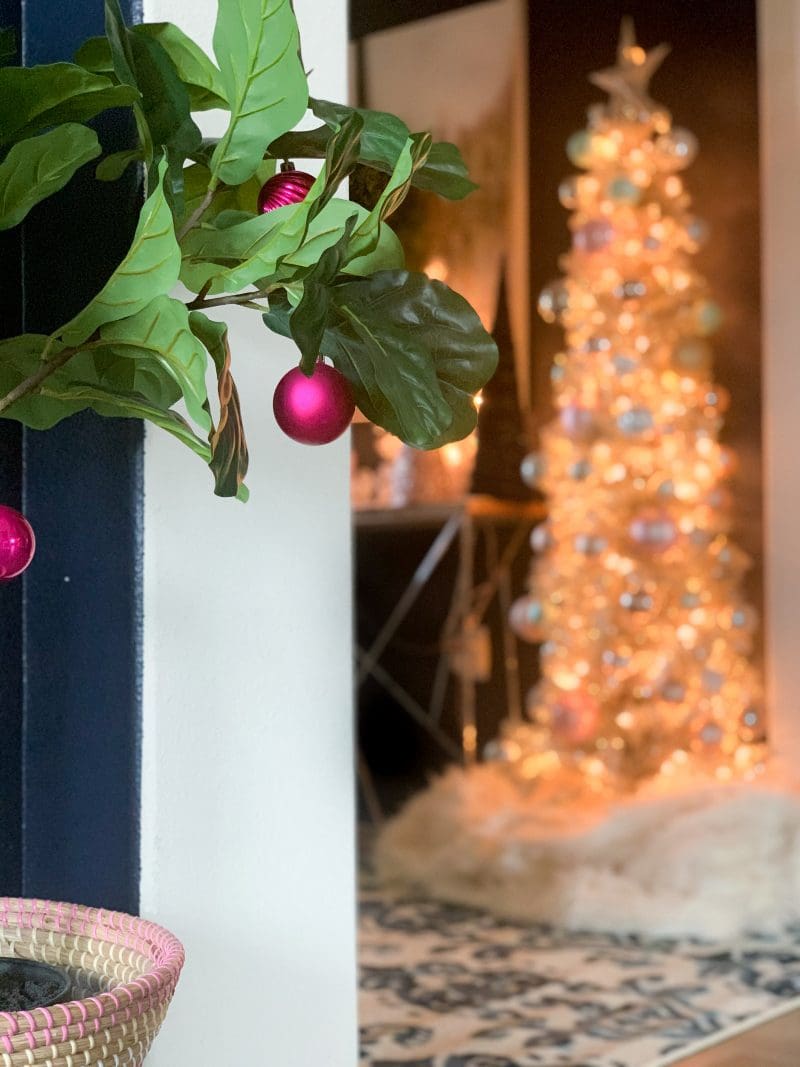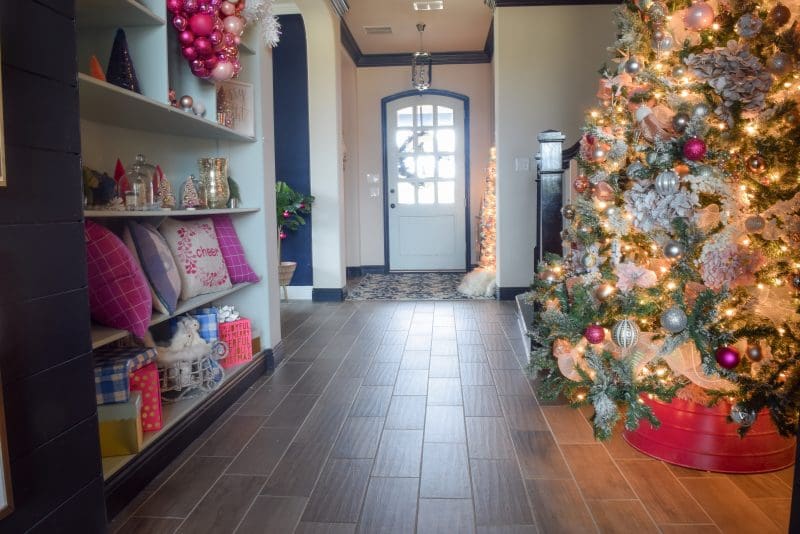 One color I was excited to bring a little more of to my Christmas decor was bright pink! When you walk through our entryway to our foyer area, we have builtin shelves on one side and a curved wall with pink floral wallpaper under the stairs on the other. I sprinkled in a few bright pink Christmas decor accents on the open shelves and hung my new DIY pink ombre wreath above.
To balance out the pink Christmas decor I spray painted our galvanized tree collar in my favorite spray paint shade – magenta pink! This DIY was so easy to do, it took less than 5 minutes and I love the colorful effect it brings to our Christmas tree!
Holiday Home Tour with Mohawk Home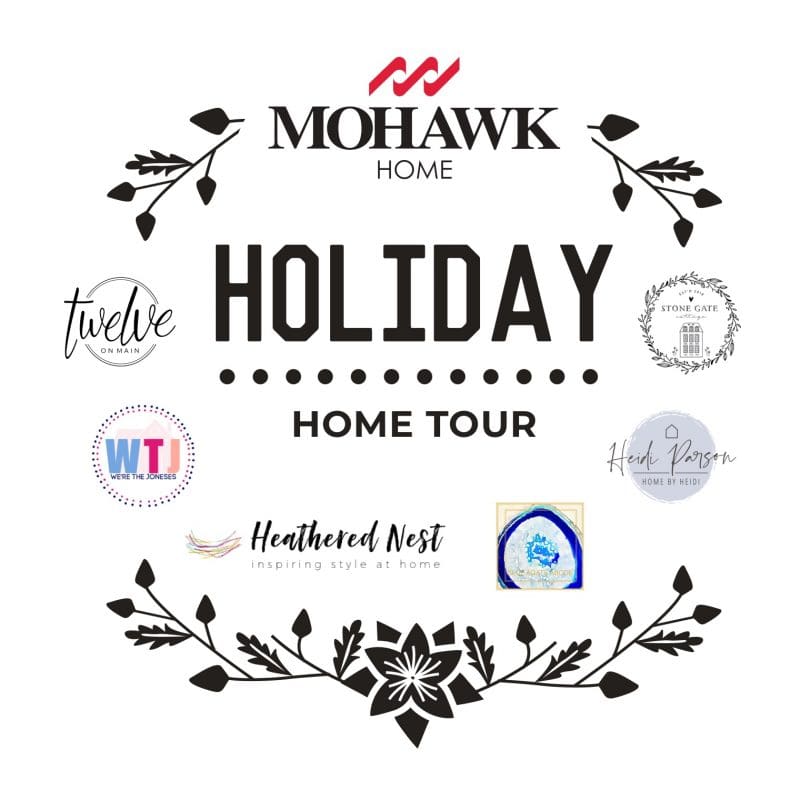 I've joined a group of talented designers and bloggers to share with you our Holiday Home Tours featuring a Mohawk Home rug! Check out the beautiful homes decorated for Christmas from these wonderful ladies:
Heidi from Home By Heidi
Heather from Heathered Nest
Christie from Stone Gate Cottage
Miranda from Blue Agate Abode
Sara from Twelve On Main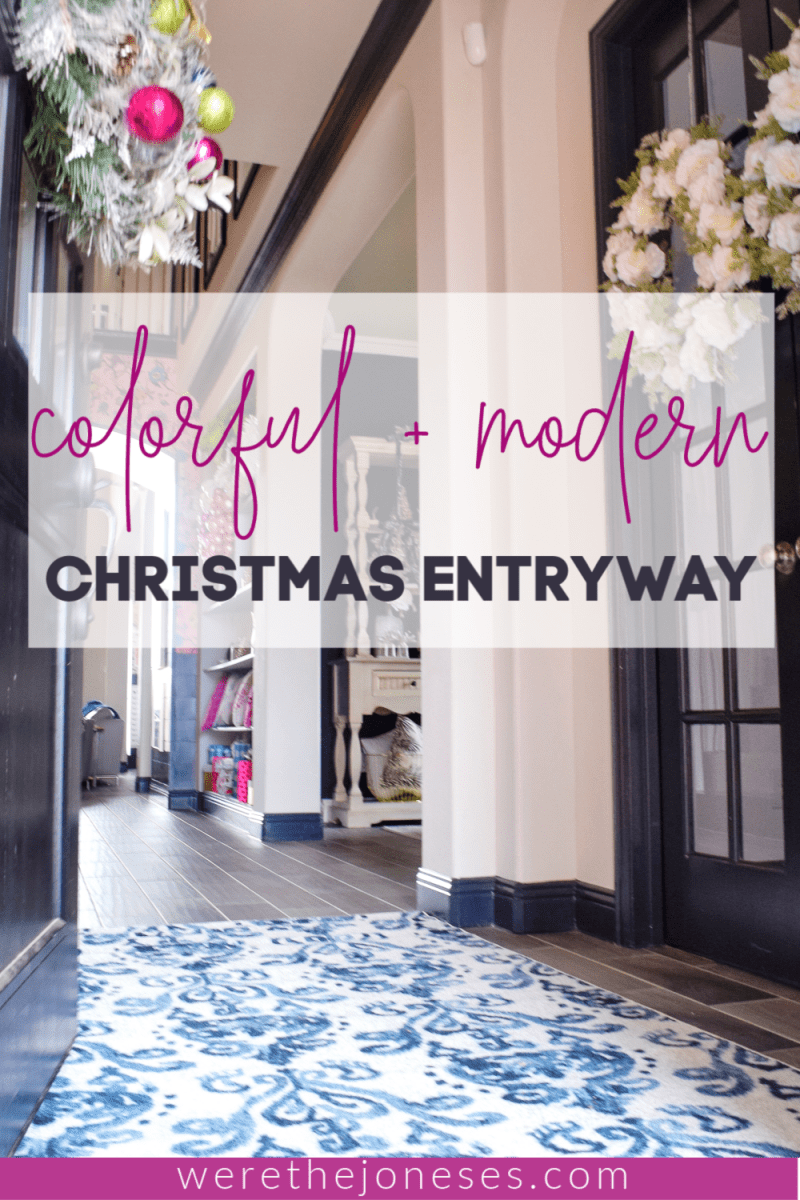 I hope you enjoyed my modern Christmas entryway home tour! I love decorating my home with fun modern designs using bright + cheery colors and sharing it with you. What color combinations are you decorating with this Christmas season?
Stay tuned for more Christmas home tours coming next week! Have a great Thanksgiving!





Looking for more Christmas DIY inspiration?
Check out my DIY Song Lyric Table Runner post HERE!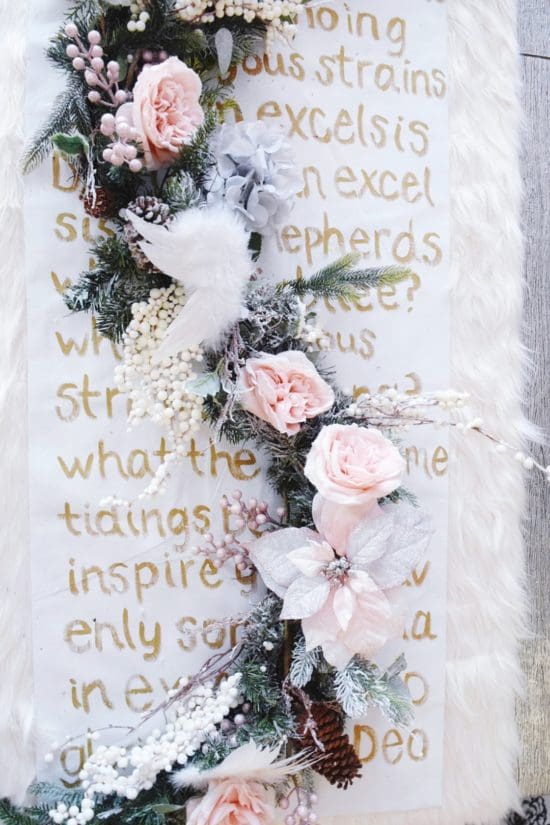 Check out my How to Flock a Christmas Tree Video Tutorial HERE!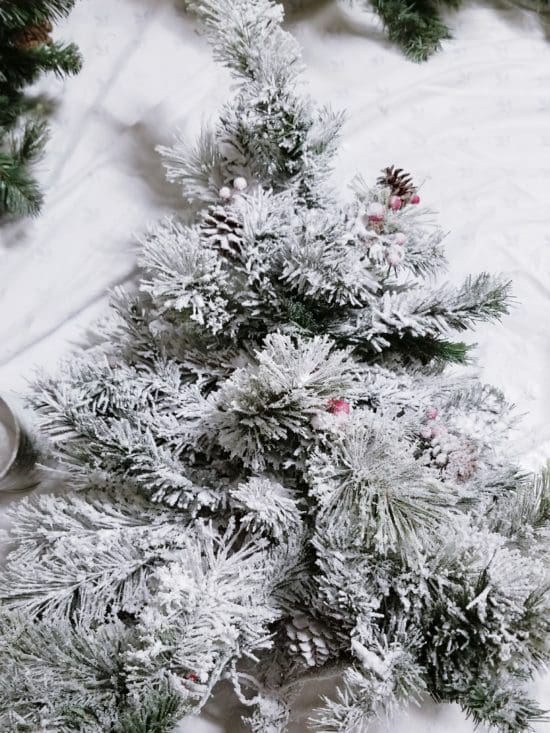 How to Make a Pink Ombre Christmas Wreath Tutorial – HERE!