Spring decorating is a great time to add more fresh green colors in your decor! A fun way to do that is with faux plants – and I've rounded up affordable and modern spring plant options from Target! Plants and greenery are an easy way to transition your home from winter to spring.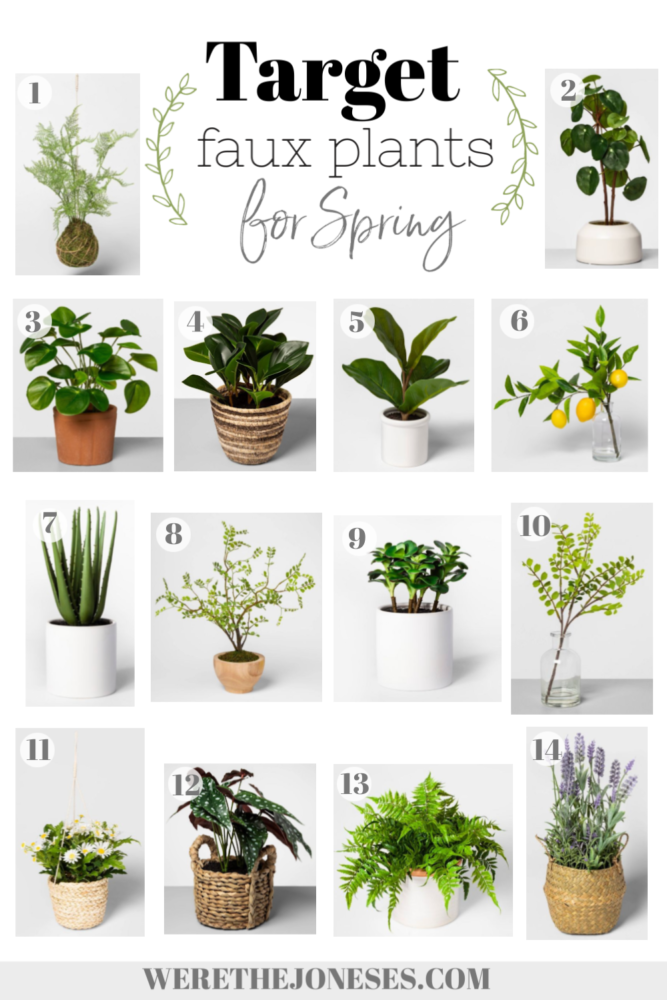 one | two | three | four | five | six | seven
eight | nine | ten | eleven | twelve | thirteen | fourteen
*This post contains some affiliate links for your convenience. Click here to read my full disclosure policy.
It's almost March! Time is flying – I feel like we just rang in the New Year.
March means two things for me – me and my girls birthday month (woohoo!)
And a glimpse of warmer weather and finally seeing more green outside!
I love that day in Spring I drive the kids to school in the morning and all of the sudden, the trees and grass have turned green! It feels like it happens overnight and is such a magical sight to see after bare trees in winter.
An easy way to bring Spring decor into your home is with modern spring plants. And I'm loving the faux plants that Target has this year! Artificial plants and greenery have come such a long way! These plants and foliage are so life-like and could fake anyone out that they aren't actually real.
I'm thinking of doing a simple Spring tablescape and simple Spring mantle, where I only add a few artificial plants and be done. Simple, minimal and easy! I'm eyeing #2, #8 and #10 for my dining room and mantle!



What's your favorite way to decorate for Spring? Do you have a favorite place to shop for artificial plants and greenery? Target is climbing up the list for me this year!
Happy Spring decorating!


View More Modern Spring Home Decor Ideas