Today is the first day of the One Room Challenge for Spring 2020! I'm so excited about the combined rooms we are doing this round: Our Master Suite Closet & Laundry Room. We're planning on knocking down the wall between these two rooms and turning the laundry room & master closet into ONE big space!
Combining our master closet and laundry room came from a crazy idea after one too many Chi Chi cocktails in Mexico…
Here's how it all started —
*This post contains some affiliate links for your convenience. Click here to read my full disclosure policy.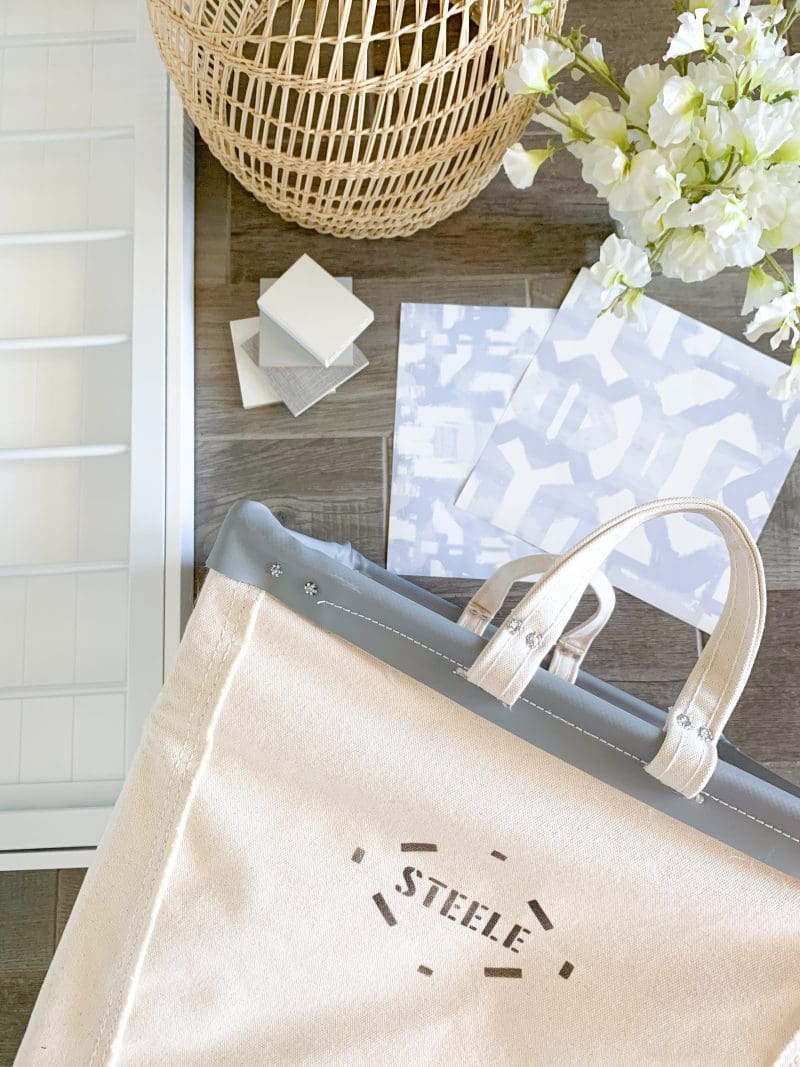 ORC Spring 2020 Week One | Master Suite Closet & Laundry
Master Suite Closet & Laundry Room Combo Room IDEA
While in Mexico earlier this year, Bryan and I are doing what we love to do while on vacation – talk about ideas we have for our businesses, brainstorm on how to improve and expand, and dream up our next home projects!
Bryan brings a clipboard and notepad with him everyday when we go to the beach or pool. We end up jotting down our work/family goals or make fun sketches of plans we have for our home.
We do this every year we go on a vacation alone, and it's so fun to look back on past notes, drawings and business plans we've made over the years!
We were talking about re-configuring our laundry room layout, and what would be the best way to go about it. Bryan has been wanting to add a second washer and dryer for all the laundry we do… and at first we thought about putting it upstairs and it be the "kids laundry" area. We already had a laundry shoot built in to the game room closet upstairs, so we thought that closet could be a spot to add a second laundry area.
After Bryan did some researching and drawings, he figured out the upstairs closet wouldn't line up right with the plumbing below. So, we got help from the experts such as Moffett Plumbing & Air. You can call Steve's Plumbing today for immediate plumbing concerns or Call Ethical Plumbing to address your leaky faucets. If you have bigger plumbing projects such as repiping, services like piping & repiping services in Edmonds, WA can help.
While we were brainstorming and dreaming up renovation plans, we started talking about also wanting to change up the layout/organization in our master closet too. It's never been that organized (or organized AT ALL to be completely honest) and the current layout never seemed right for the usage that we needed. After talking about it more, we thought maybe these could be two rooms we renovate at the same time. We also wanted to get a HVAC and furnace repair since it was already old with the help of professionals such as those from AirMax Heating & Air. If you're looking for more options in Charlotte communities or other areas, you can also visit sites like friendsandfamilyhvac.com/ac-maintenance-ontario-ca/. For additional guidance, you can find more information from T.E. Spall & Son.
Let me back up a little further: When we built our house 5 years ago, we added a door from our master closet to our laundry room. That way, there would be two possible entries to the laundry room. Either from our master closet, or from the living room. This was one of the BEST decisions we made when building the house. We love being able to get to the laundry room from our master closet and it makes this side of the house feel more like a "Master Mega Suite" with our master bedroom, master bathroom, closet, and laundry room all connected.
After talking about what each of our wants and needs were for both rooms, Bryan gets out a blank sheet of paper. He starts drawing the master closet & laundry room as ONE room by removing the wall in between them.
We go back and forth with pros and cons of having the master closet be a part of the laundry room. Do we want our closet open? Will this space make sense? Will we be able to do this big of a space all at once?
After weighing the negatives and positives we decide we wanted to go for it!!
LAUNDRY ROOM DESIGN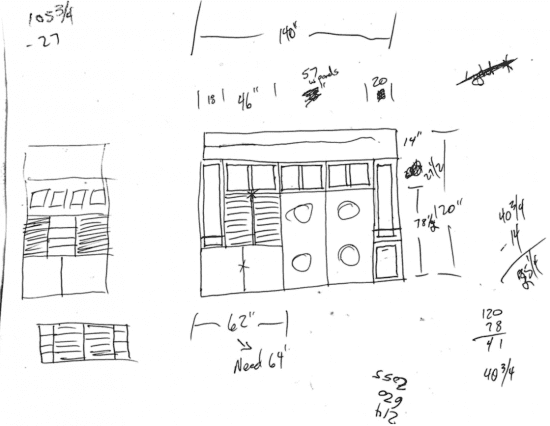 This is one of our earlier drawings of the built-in cabinets Bryan is going to build around our double washer and dryer. This drawing has seen many changes over the last few weeks, but I think we getting close to a final draw!
MASTER CLOSET FLOOR PLAN DESIGN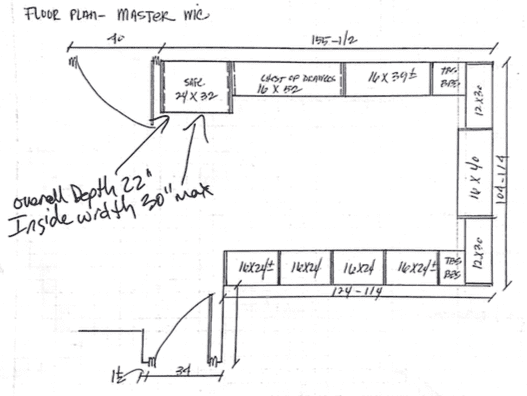 This is the floor plan we are envisioning for the Master Closet area. This space still needs to be worked on, but the ideas are flowing and we're excited to bring it to life!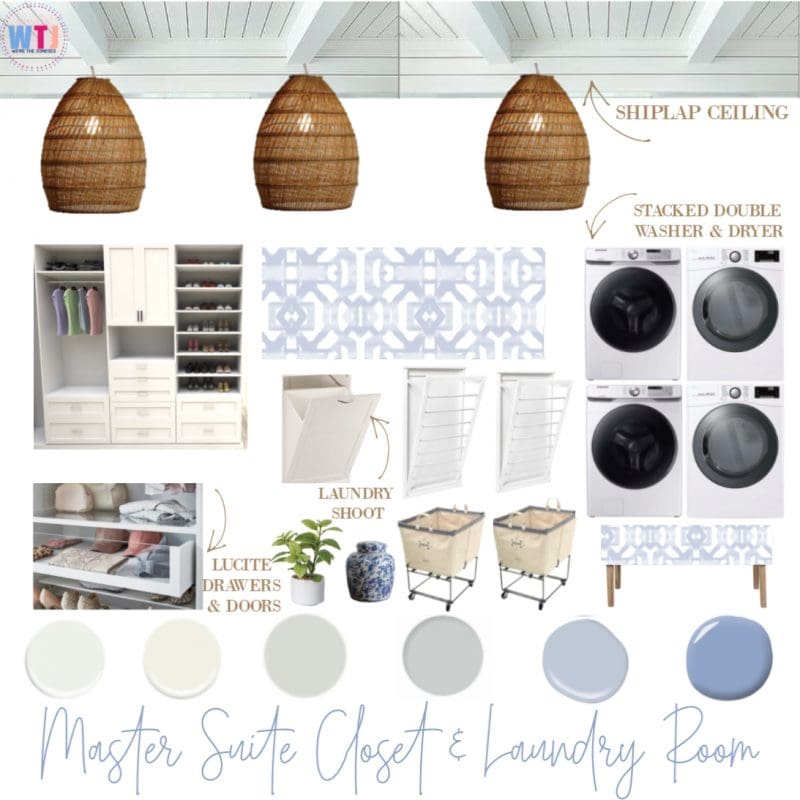 Some of our design plans are adding a shiplap ceiling, new light fixtures, built in cabinets around the double washer and dryer, new countertop space with rolling carts underneath, a focal wall with wallpaper, and new lucite cabinets and drawers in the master closet.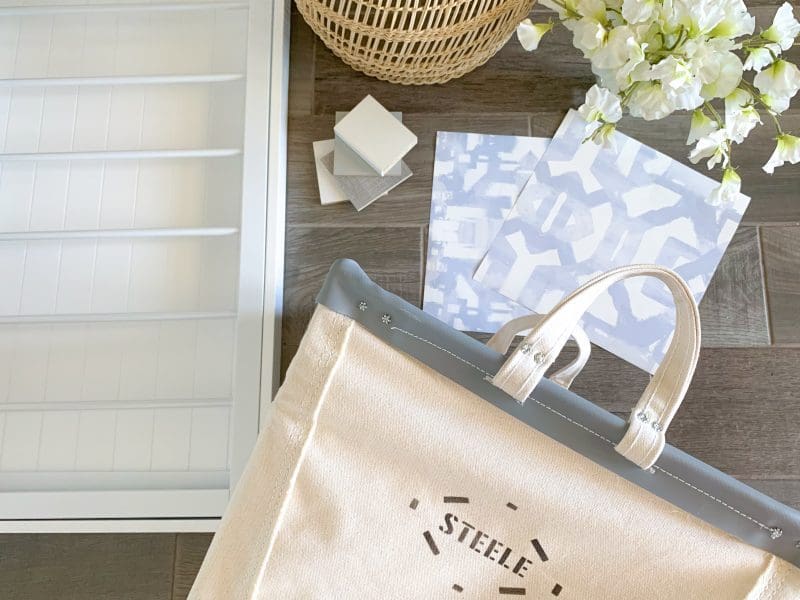 BEFORE PHOTOS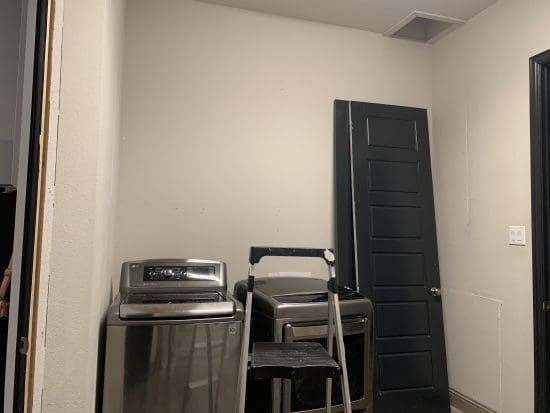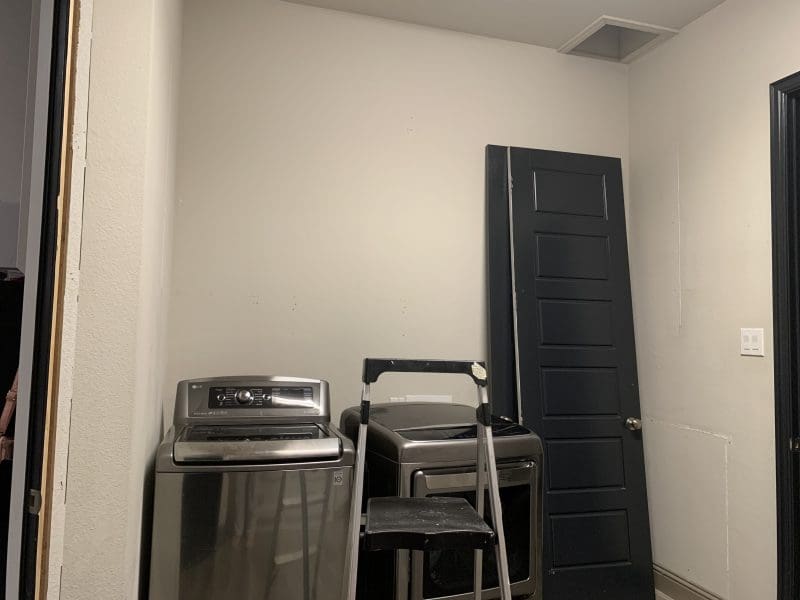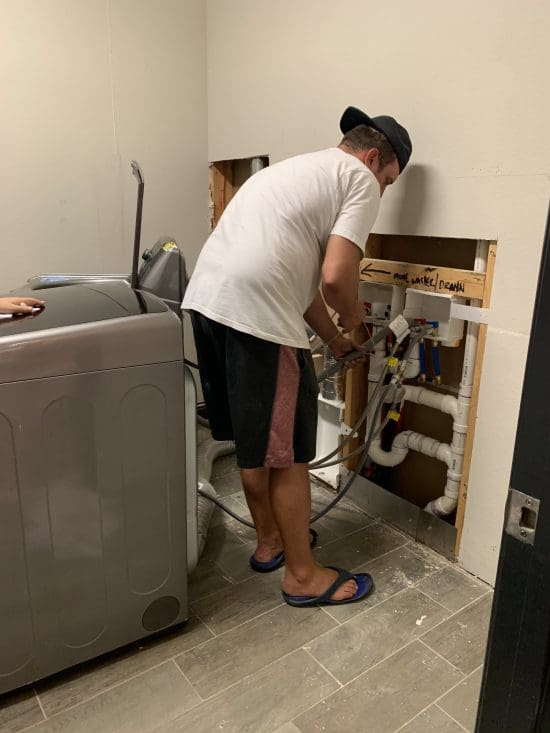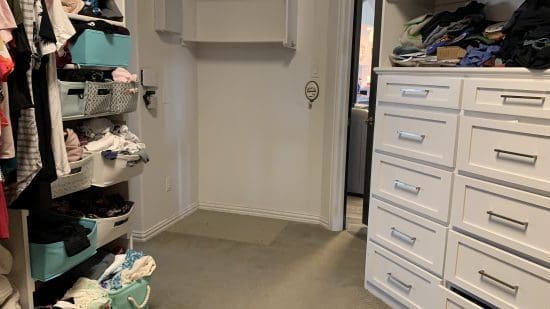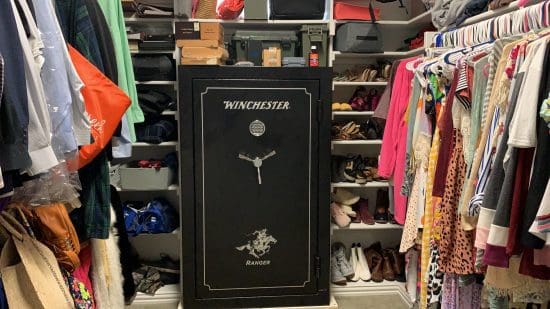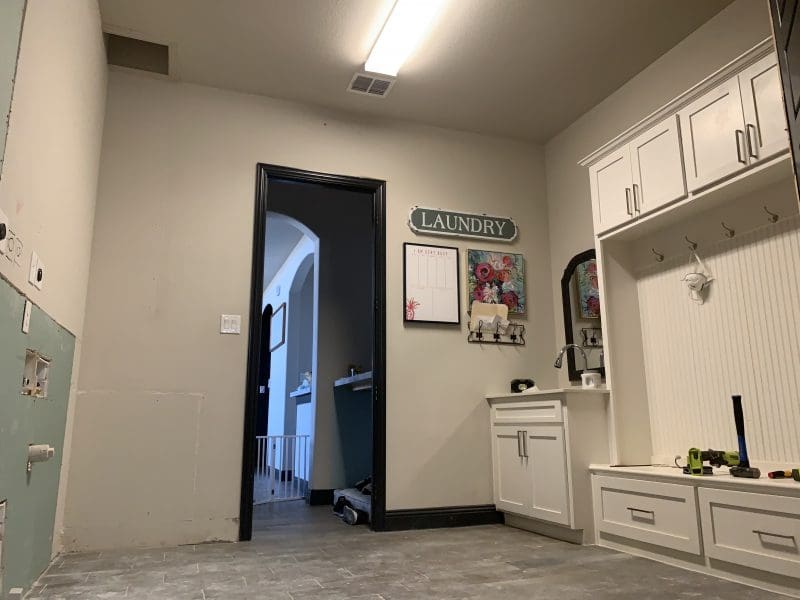 We've already knocked down the wall you see above – and I can't wait to show you the open space we're working with! The challenge is to make this space feel like it has a continuous flow and is purposeful in function and design. I'm excited for the challenge and to create this unique space of our home!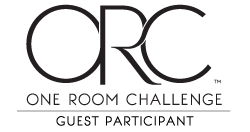 What is the One Room Challenge?
It's week one of the The One Room Challenge™! What is the The One Room Challenge™ you ask? The ORC team along with with it's official media partner Better Homes and Gardens host a 6 week challenge for 20 featured design influencers to makeover one room in their home. They also invite all design enthusiasts with a blog or Instagram page to participate as a guest participant in the 6 week challenge as well. This is my second time participating in the ORC and I'm so excited!
Visit all the The One Room Challenge™ posts from week one HERE!
Because of covid-19, The One Room Challenge™ was pushed back several weeks and also extended to 8 weeks instead of the normal 6 weeks. We've already gotten a head start, and with the extension I think we should be able to finish the master closet and laundry room on time! Even if some things get delayed, it's a fun way to cheer on other DIYers and home renovators during all our fun at home projects we have going on 🙂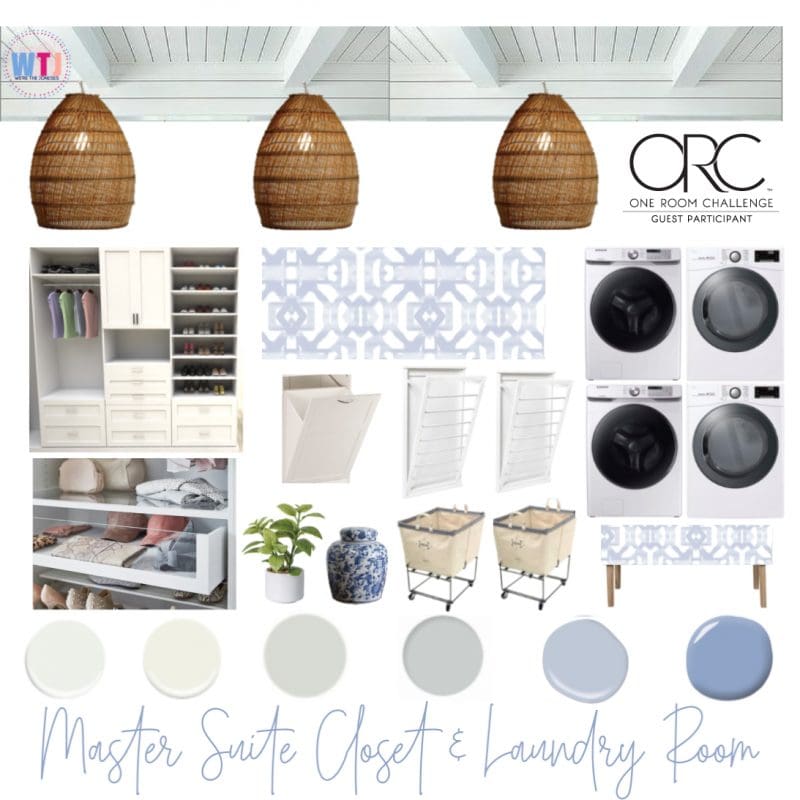 I am so glad you are here to follow along this One Room Challenge journey with us! For the next seven weeks, I will be updating you each week with our master closet & laundry room progress – stay tuned for next week, and make sure to check out all of my fellow ORC guests participants projects as well!


Check out all the The One Room Challenge™ guest participants week one posts HERE!
Check out all the The One Room Challenge™ featured designers week one posts HERE!
Recent Home Makeovers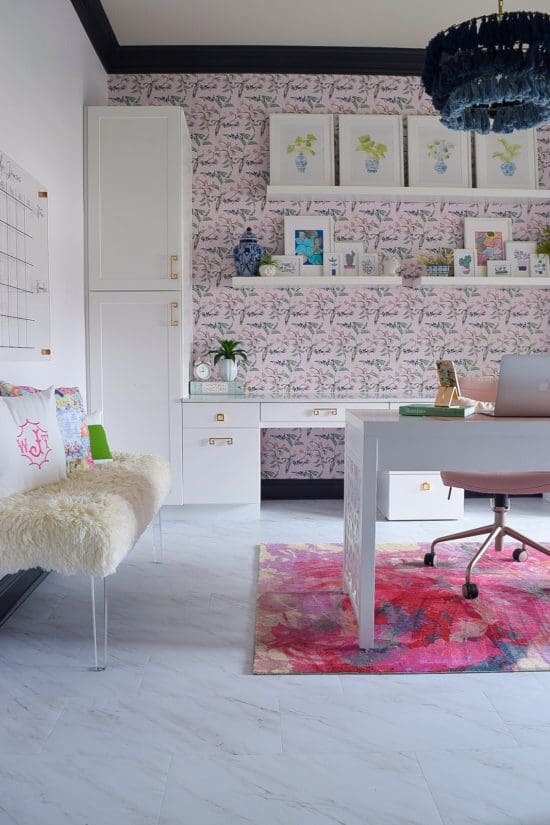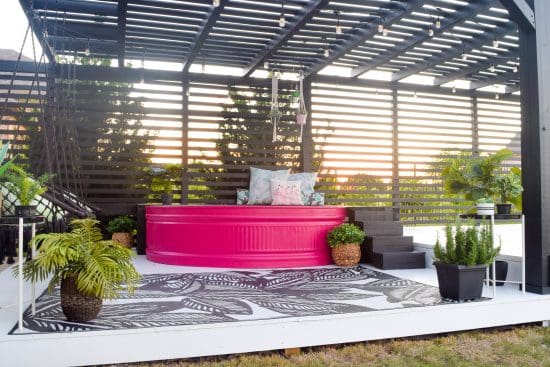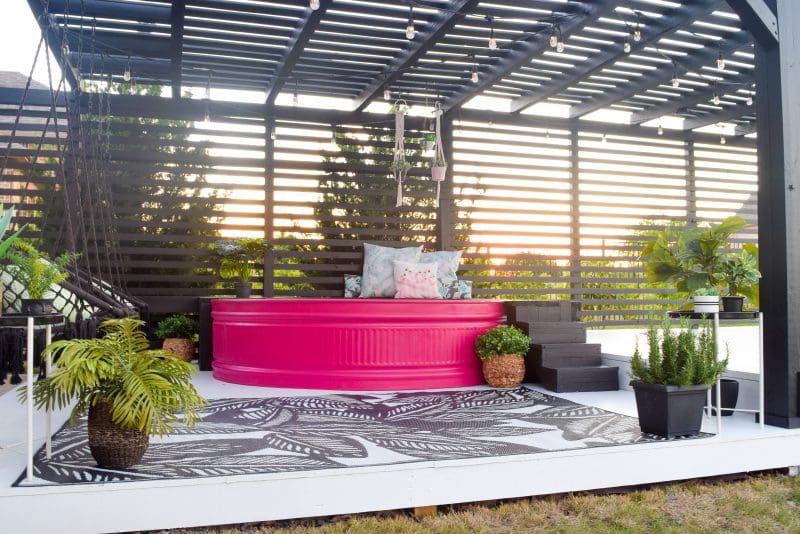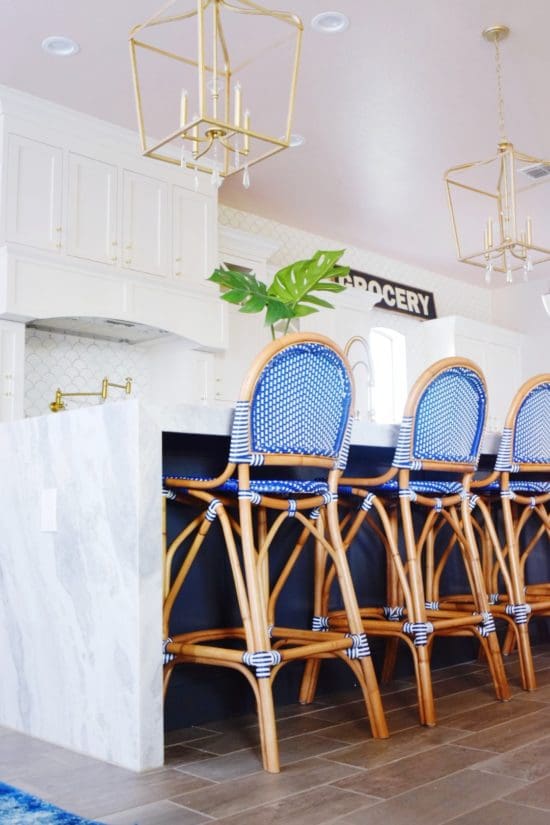 Coastal Master Bedroom Makeover