Freshen up your bedroom for Summer! Here are 5 easy & affordable Summer bedroom decorating ideas to get your room summer-ready. Simple decorating swaps to refresh and revive your bedroom on a budget!
This post is sponsored by Burke's Outlet. All opinions are my own. This post contains some affiliate links for your convenience. Click here to read my full disclosure policy.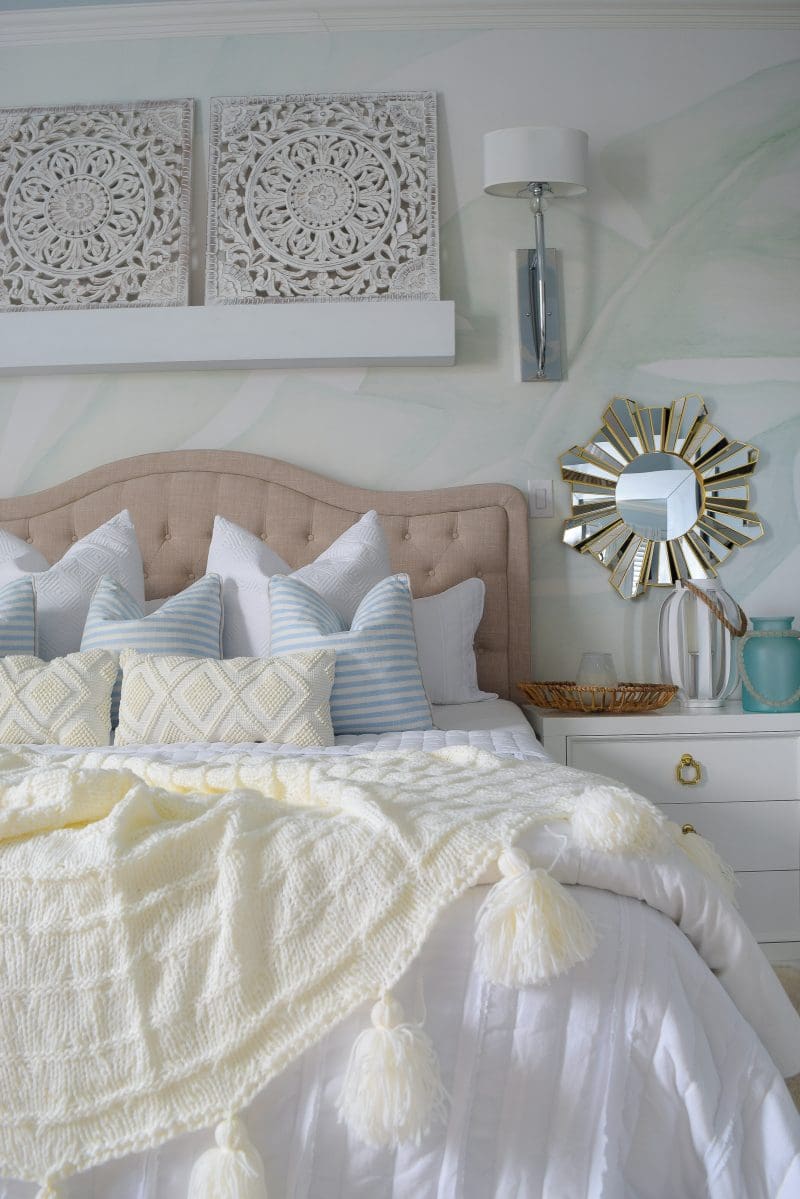 5 Easy + Affordable Summer Bedroom Decorating Ideas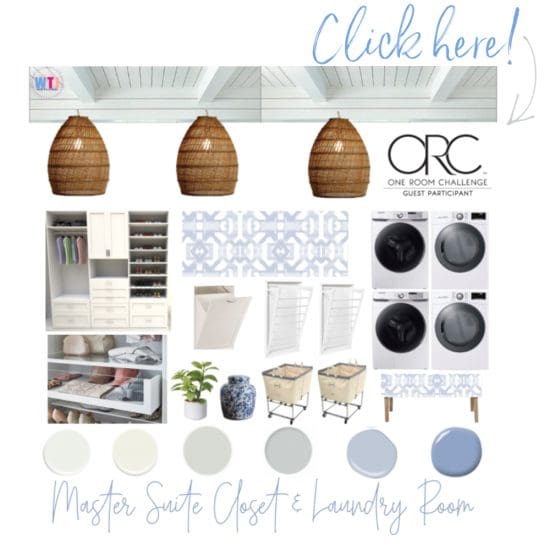 Hello fresh coastal vibes 🙂 I see you Summer!
I can start to feel the summer weather here in Texas and I am LOVING it!!
A lot of people run away from high temperatures and the beaming sun, but I soak it up. It elevates my mood to be outside with the warm sunshine on my skin. (Get back to me in August, and I usually change my tune, ha!)
Truth is, my home has coastal decor year round! But I like to add even more fresh summer vibes during the warmer months.
I love the feeling of adding fresh seasonal decor in my bedroom with the changing seasons. But I don't want to spend a fortune every time the weather changes and a new season comes along.
Good news is there's lots of easy + affordable ways to decorate your bedroom for summer! I've listed my tried and true decorating tips for freshening up your bedroom decor. My 5 Easy + Affordable Summer Bedroom Decorating Ideas are listed below!
5 Fresh Summer Bedroom Decorating Tips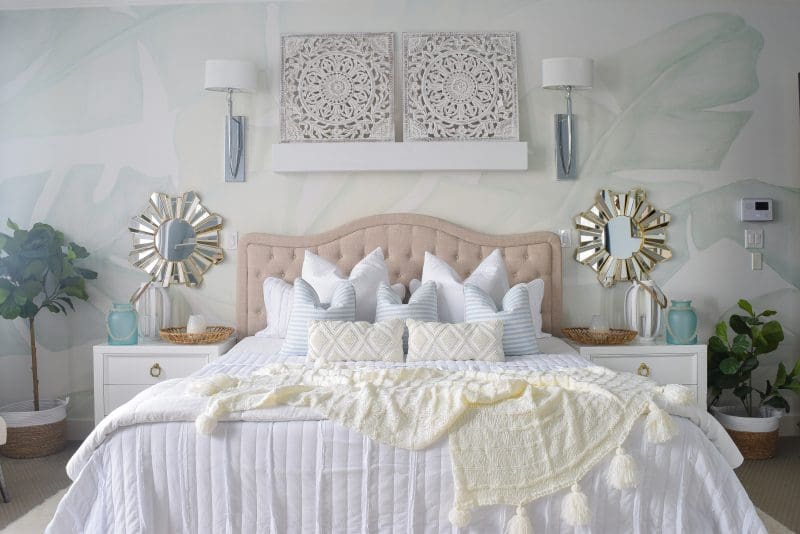 1. Switch out your bedding for light and airy comforter, quilts, and throw blankets
2. Accessorize with soft neutral throw pillows and decorative pillows
3. Add in touches of the outdoors with greenery, plants and florals
4. Freshen up decor on nightstands and side tables. Bring in coastal elements with woven baskets or trays, a summer scented candle or sea glass vases
5. Add dimension and fresh colors with summer style wall art
I bought a new Haven St Candle Co candle from Burke's Outlet called "Fresh Waters" and the candle description sums up the feelings and vibes of summer time perfectly:
"Refreshing ozone, soft summer fruits, and dew covered greens swirl with the aquatic floral brilliance of water lily"
Side Note: Wouldn't it be fun to have the job of coming up with descriptions of candles, fragrance and lotion scents? Oh, and paint color and nail polish names! Now these people are truly creative.
But seriously, I love the way it describes the candle! It describes some of the same words I like to think about when decorating my own bedroom for summer:
fresh
dewy
summer
aquatic
refreshing
greens
water
Let's dive into each five summer decorating tips to freshen up our bedroom, with these fun adjectives in mind!
1. Soft and Breathable Summer Bedding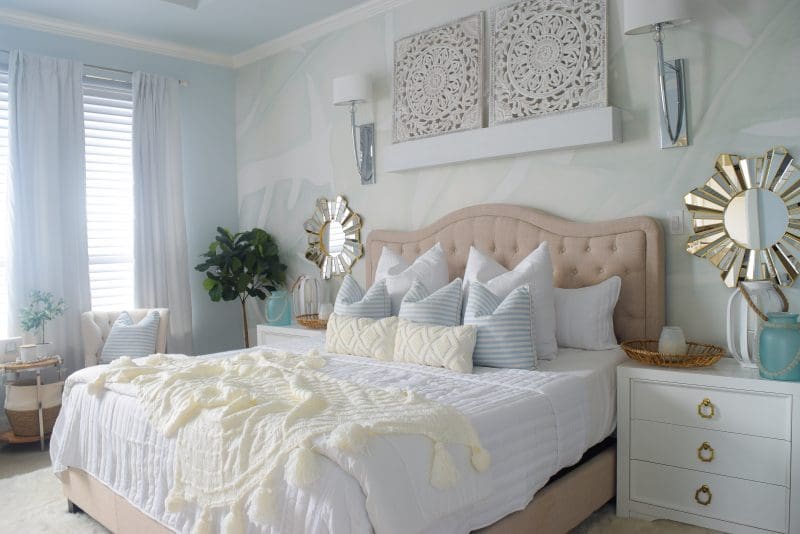 In the summer months you can switch out your bedding for light and airy comforters, quilts and throw blankets.
I like to stick with white bedding (it might be easier to spot stains, but also much easier to clean!) and layer in other fresh neutral colors on top. The first item I found was this lightweight throw blanket with chunky pom pom tassels from Burke's Outlet and instantly knew I needed it for my bedroom refresh!
I was also looking for breathable bedding and loved this thin soft white quilt. The tiny vertical stripe detail was a fun added texture to the white bedding to give it a little more personality and style.
Summer bedding can also be extra layers you add on when the air gets a little more crisp in the fall and winter. I get cold almost every month of the year, so I like to have extra throw blankets and quilts at the bottom of the bed just in case!
2. Fresh & Neutral Throw Pillows and Decorative Shams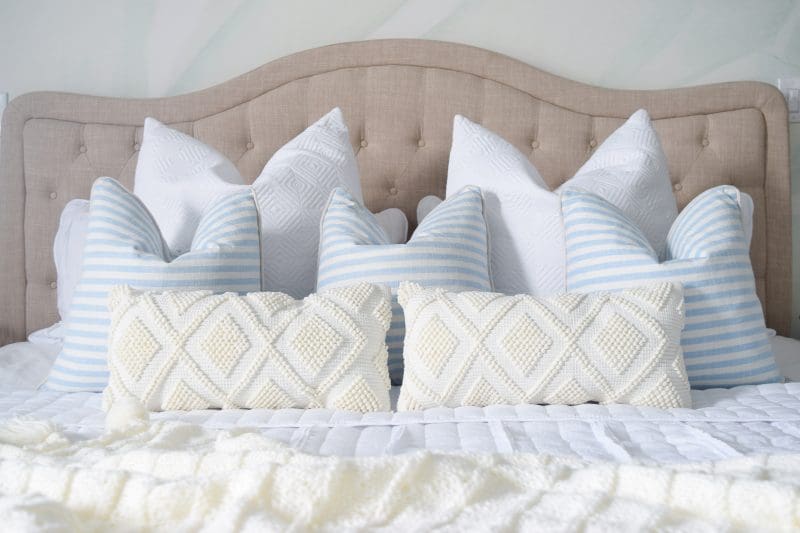 The easiest way to refresh a space each season is with throw pillows! You can swap out your decorative pillows and shams for pillows that have a more summer coastal feel.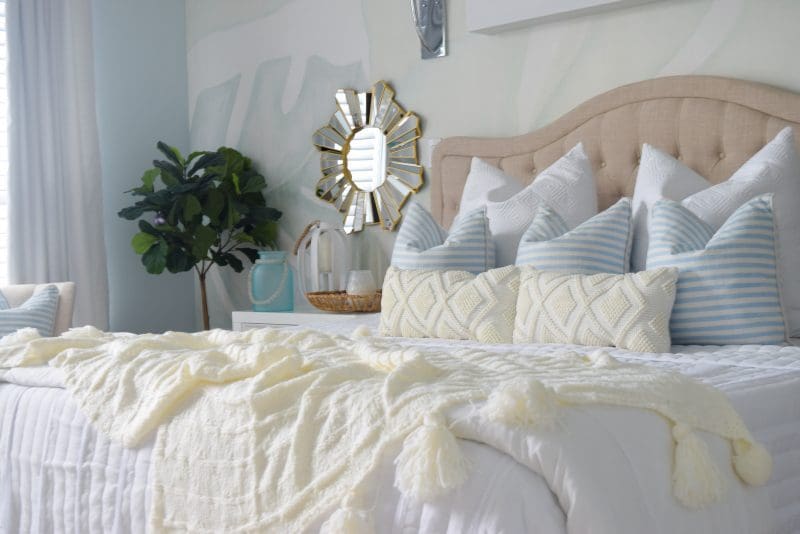 Pick pillows and shams with soft neutral color palettes and that have a softer lighter fabric like linen or cotton. I love these coastal blue and cream striped pillows I found — they were the perfect pop of fresh summer color but still feel neutral and subdued.
3. Add In Touches of the Outdoors With Plants and Foliage
Another easy way to add summer decor in your bedroom is by bringing the outdoor feel inside with plants and foliage.
Adding in touches of greenery or florals brings a refreshing vibe to your space. You can also place the plants in coastal style woven baskets for an added California coastal vibe.
I usually buy faux plants because I don't do well with indoor plants – and the faux plants you can find these days look close to the real thing!
4. Decorate nightstands and side tables with Summery coastal vignettes
Freshen up your decor on the nightstands and side tables with summer vignettes. You could easily add in coastal elements with seashells you've collected from the beach, woven baskets or trays, or a tropical plant.
On the small table in our seating area I styled with coastal wooden beads and a summer scented candle. On our nightstands I found these large open weave trays, seaglass vessels, and beachy candle holders with white wood and rope details.
All of these decorative pieces help add a little bit of coastal style to the bedroom and make it feel fresh and beachy!
I also found the cute square canvas of two puppies sitting on a glam palm tree chair. Isn't it so cute? We just got our two puppies from the shelter when I found this — and it was on clearance for only $2!
5. Add Coastal Style Wall Art and Summer Art Pieces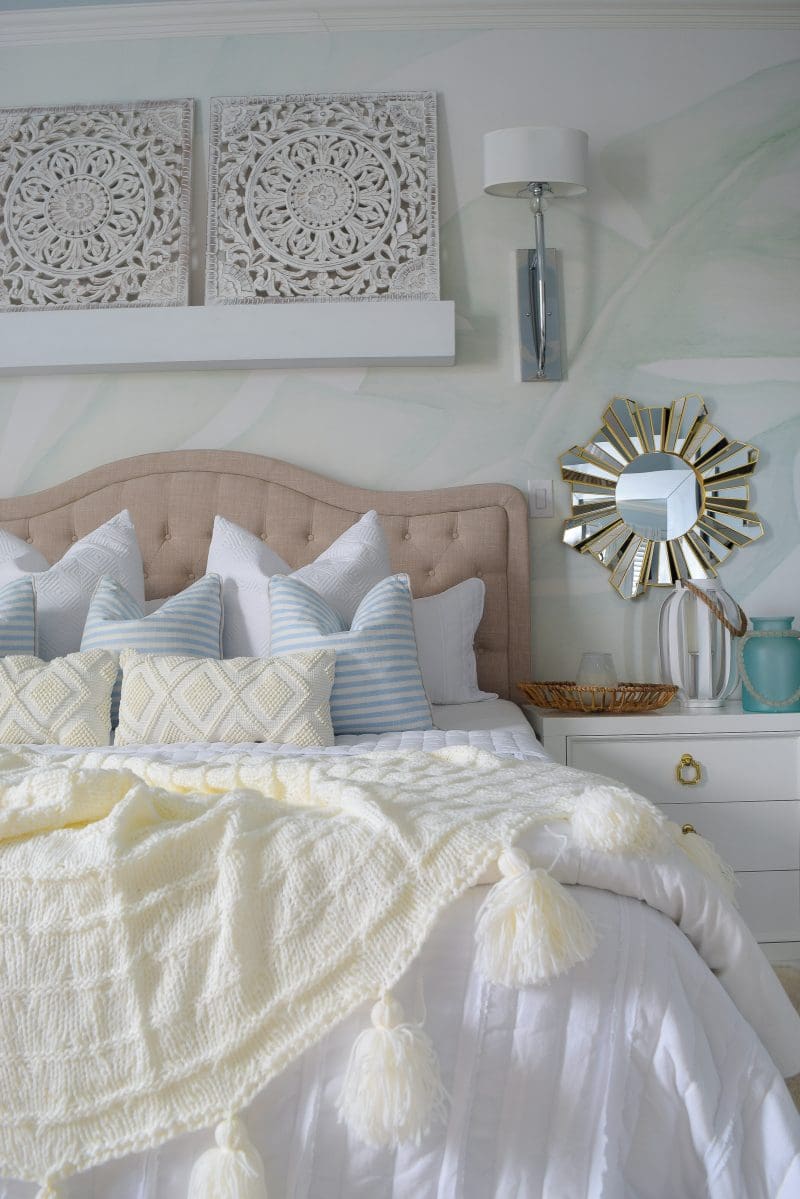 Another easy decorating idea is to add some summer wall hangings to your bedroom. I like to switch out the art pieces on the ledge above our bed as an easy way to add fresh new art pieces.
These medallion wood wall art pieces don't "scream" summer but have a soft coastal vibe with the distressed white wood. I like how you can see through them with the openings in the design and they still show off our palm leaf mural in the background.
Another idea would be to add some beachy art prints or other relaxing summer wall art to hang in your room. If you don't want to put lots of holes in your walls you can lean your wall art like I do on our floating wood ledge.
We Think You'll Love These Bedroom Makeovers!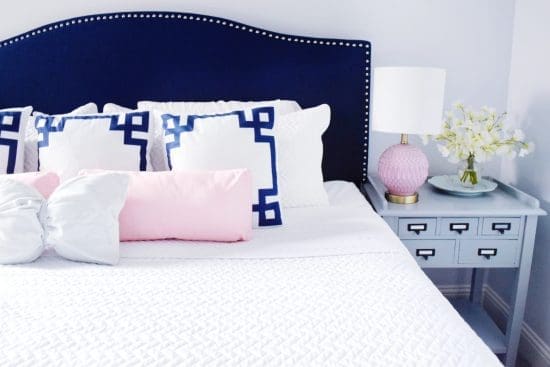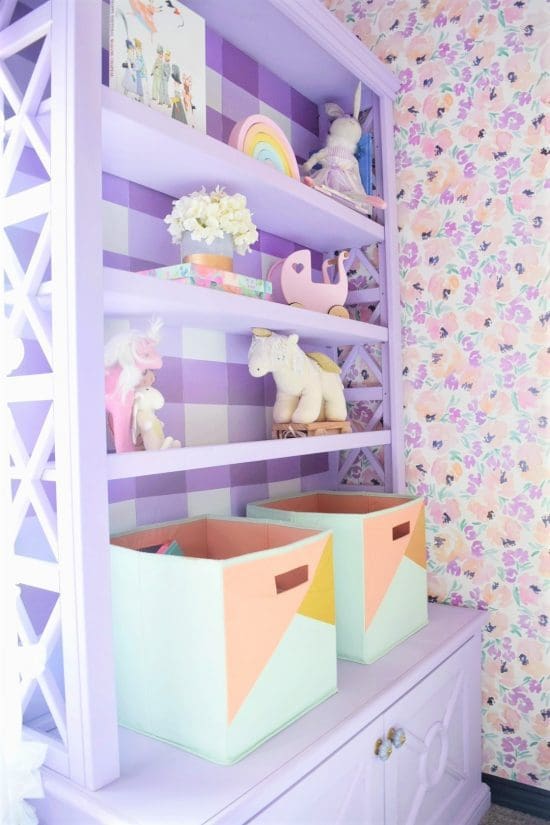 I hope you like these budget friendly summer bedroom decorating ideas! I'm loving our new dreamy summer bedroom that has me longing for summers on the beach!
Happy Summer decorating!


Check Out More Budget Friendly Decorating Ideas!
Master Bathroom Refresh On A Budget