I've rounded up some fun halloween ideas to share with you today! These simple halloween decorating ideas can easily be added to your front porch and inside your home. Bring on the spooky and frightful fun halloween decor!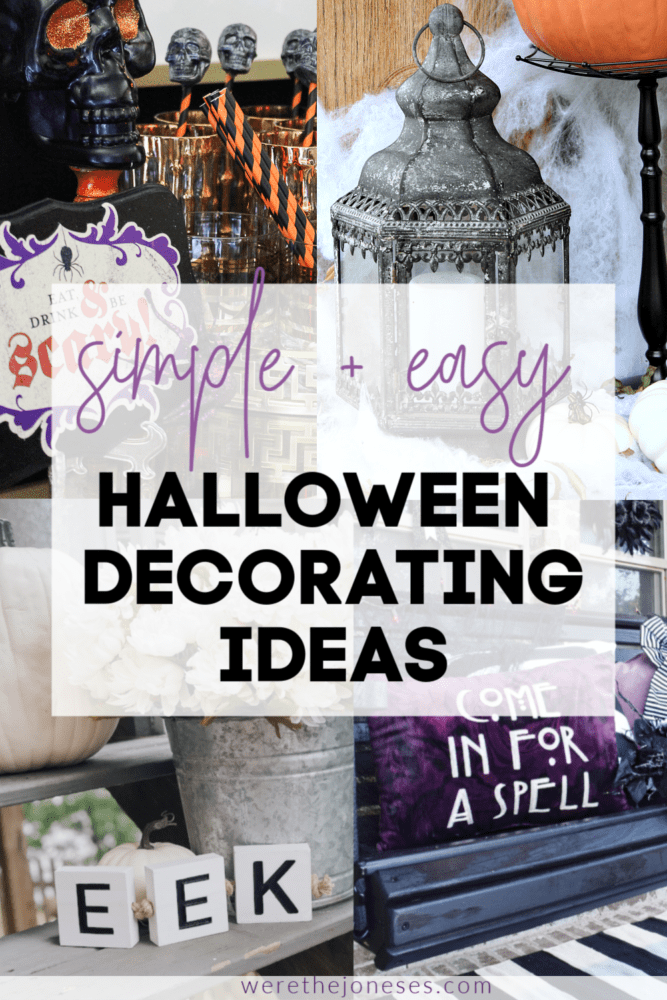 Simple Halloween Decor Ideas
*This post contains some affiliate links for your convenience. Click here to read my full disclosure policy.
She Gave It A Go
She Gave It A Go | How to Add Halloween to Your Fall Decor
I love how Brendt addresses this common seasonal decor dilemma – decorate for fall or for halloween? And if you do both, does fall decor have to be taken down and then put back up again after halloween? Brendt talks about how you can do both and add halloween decor in with your fall decor. She gives simple and easy tips to achieve this in her post. A couple ideas she gives is using the color black and adding in a few whimsical pieces. This instantly add a halloween vibe and can be easily added to fall decor. Also, you can add a few items with halloween words like a fun doormat or decorative sign. These can easily be switched out after halloween is over.
Rain on a Tin Roof
Rain on a Tin Roof | Easy DIY Halloween Decorations
Jenna's post includes all of her easy DIY halloween decorations – and they are so FUN! All of her halloween decor tutorials take less than 10 minutes and are so easy to make. My favorites are her DIY skull sconces and DIY witch broom, they are so fun and creative! Jenna uses items from the dollar store to make affordable Halloween DIYs and shares all of her step by step instructions on her blog too. I want to come to her house for Halloween – something tells me she would throw a fun frightful party and pass out all the good candy!!
The Tattered Pew
The Tattered Pew | Fall Kitchen Hosting Tips
Kelly decorated her front porch with festive and fun Halloween decor. I love the black crows and skeleton animals – the bat hanging upside down on the bench is my favorite! Her black netted curtains are a fun way to drape the porch bench and add a touch of spooky! I also relate to how Kelly talks about decorating for her kids. This can be hard to do (for me) sometimes! My son Cade is SO into decorating for Halloween and wants me to get all the gory and scary Halloween decor. I try to find a balance on decorating with items he enjoys and also fits in with our style. Kelly discusses how she decorates for halloween with her kids in mind – and I love this perspective!!
We're the Joneses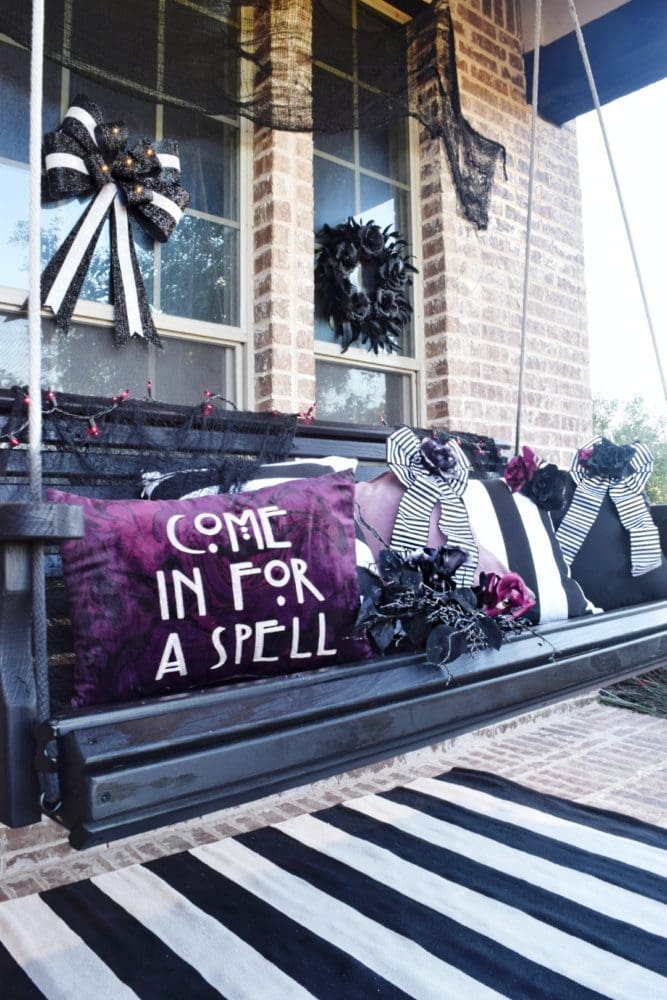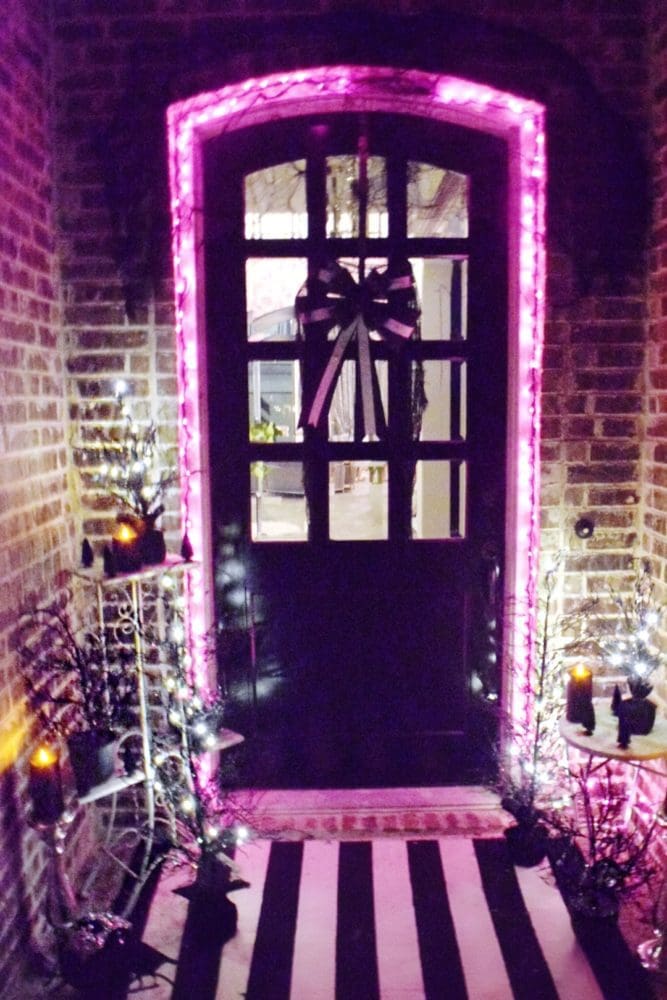 We're the Joneses Modern Halloween Porch Decor
Last year I shared how to decorate a Halloween porch that's spooky but with style! You can decorate with fun frightful Halloween decor but with a classy and elegant spin. I decorated with modern black and white stripes and touches of rich purple for a stylish Halloween porch. I love the combination of purple, black and white for a classy and elegant touch on Halloween. The black and white stripes throughout the porch give it a fresh modern feel, and the pre-lit striped bow is my favorite! I also have an easy DIY on adding removable flower and bow embellishments to Halloween pillows, sure to add whimsy and elegance to your modern Halloween decor.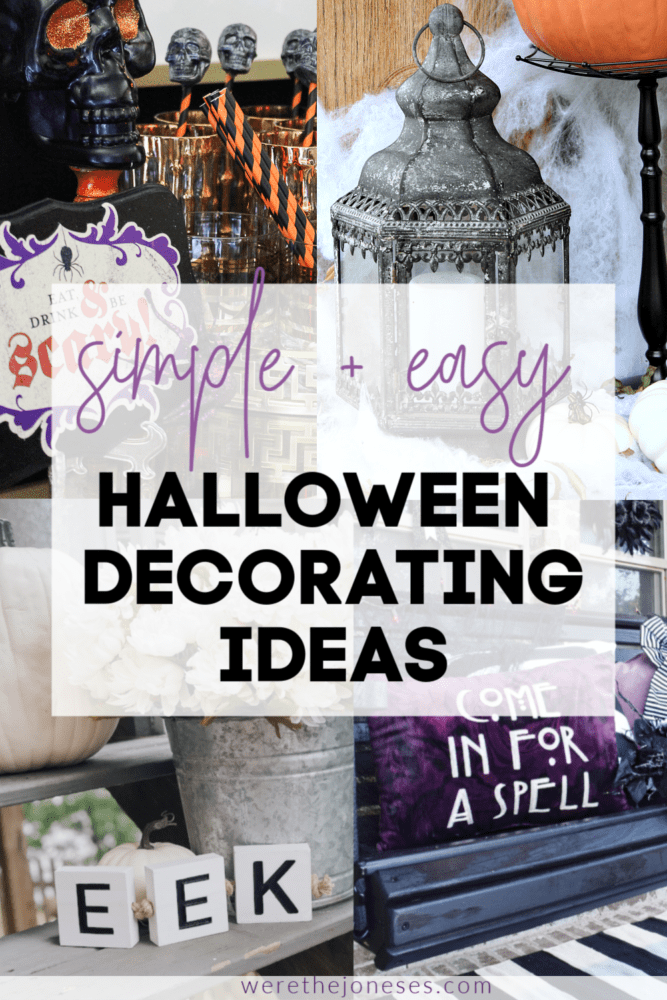 Check out my modern colorful fall home tour HERE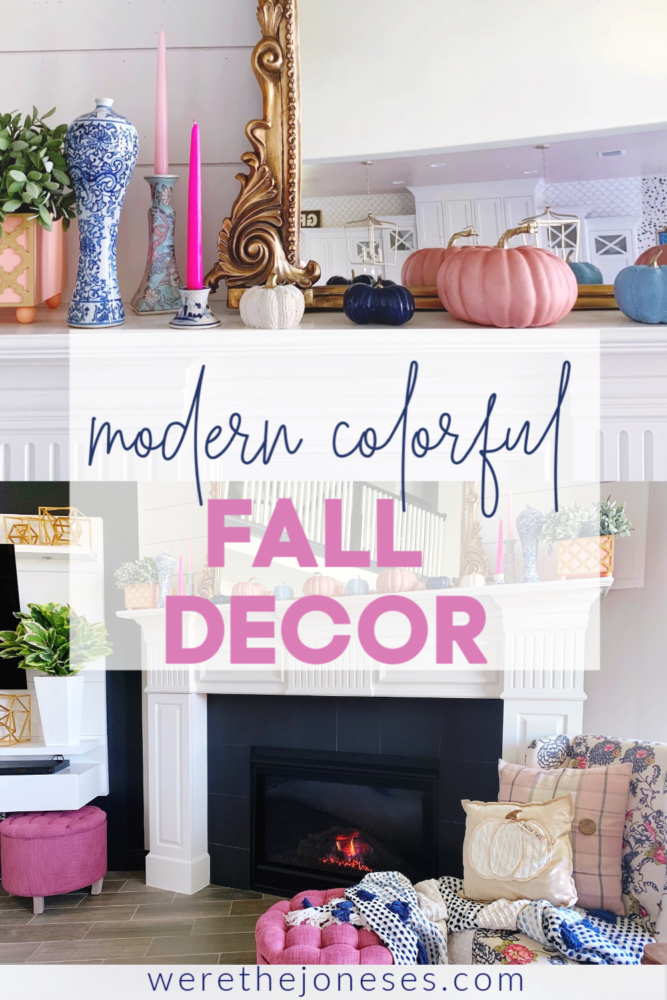 I hope you enjoyed these simple and fun halloween decorating ideas. Halloween is SO fun to decorate and there's so many unique and creative decor options! Thanks for stopping by, and have fun with your halloween decorating!
Happy decorating!


Need ideas for decorating your fall bedroom? See fall bedroom decor inspiration HERE.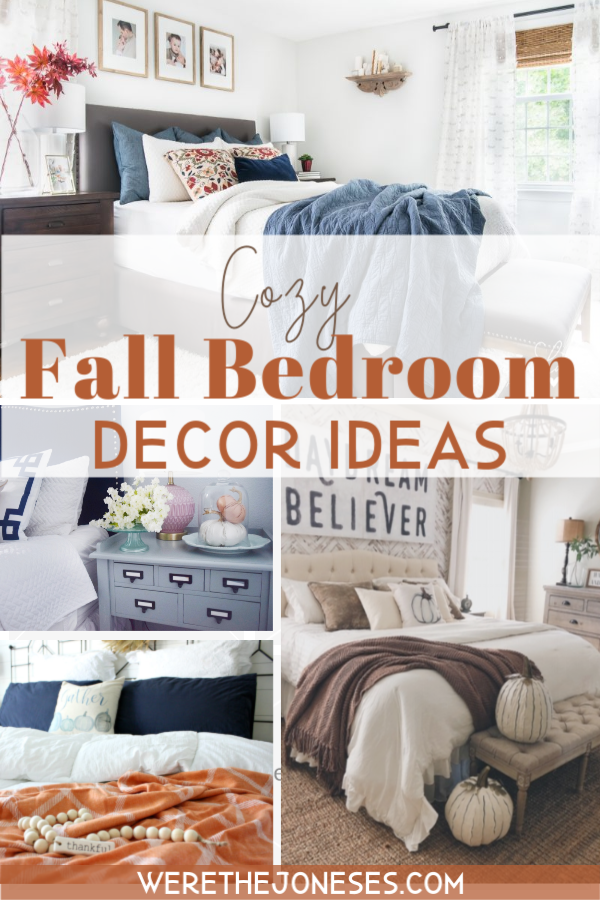 See all my fall decor ideas HERE.