Favorite outdoor patio furniture in classic modern blue and white color options. The coastal blue and white color combo is sure to freshen up your backyard for summer!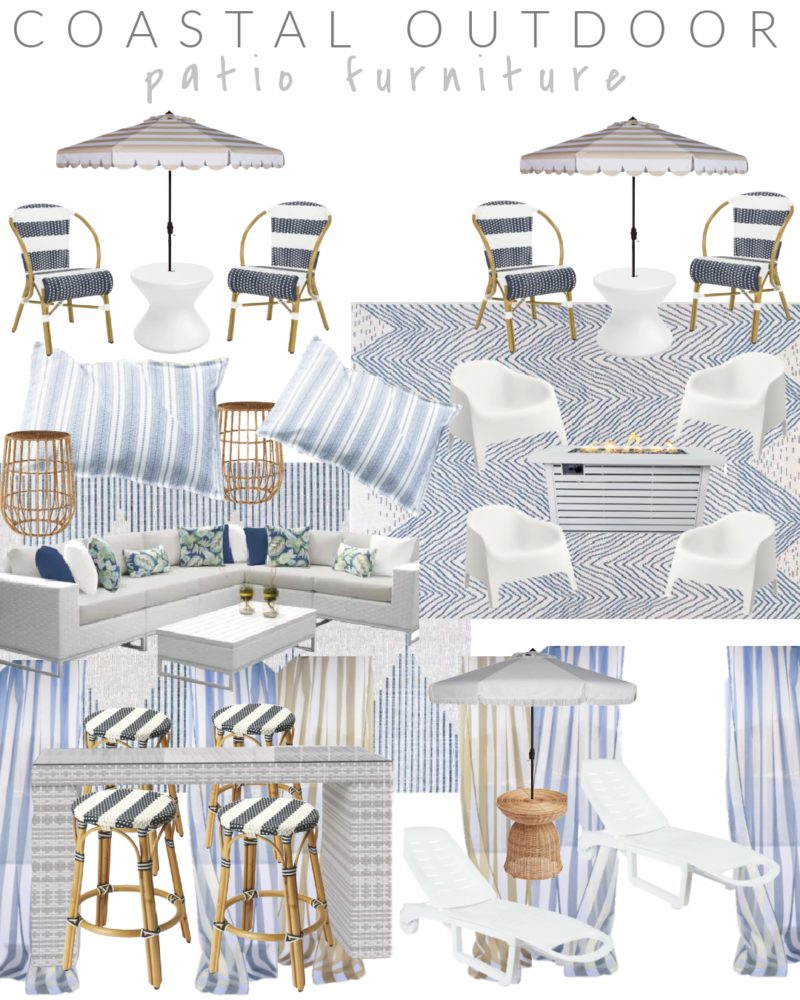 Modern Blue and White Outdoor Patio Furniture
I have all things outdoor patio furniture and pool furniture on my mind.
Bryan says I'm getting ahead of myself since we haven't even started building our pool yet (see swimming pool updates HERE) but I call it being prepared.
And I can't stop saving all the coastal outdoor patio furniture I am lusting over for our new backyard makeover. Give me all the blues and whites and rattan!
I've made an excel spreadsheet of wishlist patio furniture items for when our pool is complete. We will probably buy our pool furniture in phases, as some outdoor furniture can be pretty pricey.
A lot of the items I found are from Walmart and Wayfair and are relatively inexpensive for patio furniture. I thought I'd share with you my favorites in case you are on the hunt for affordable coastal outdoor furniture too.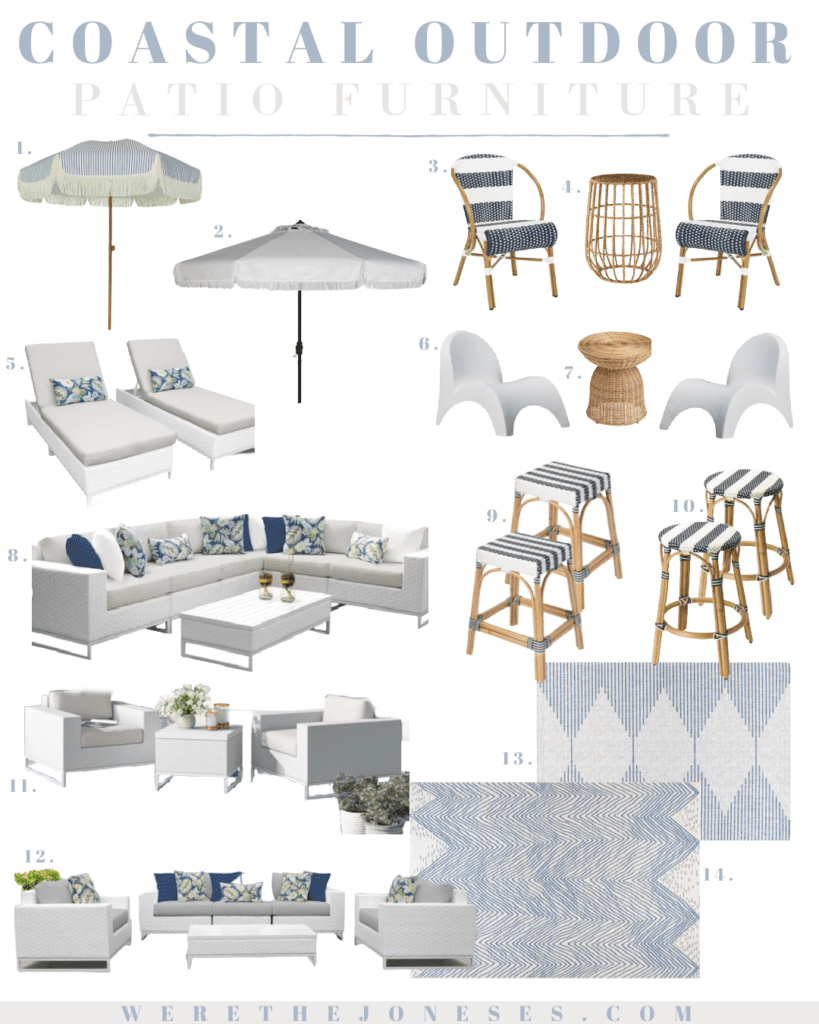 one | two | three | four | five | six | seven
eight | nine | ten | eleven | twelve | thirteen | fourteen
Blue and White Rattan Stools and Chairs
Handmade Tobias Rattan Counter Stool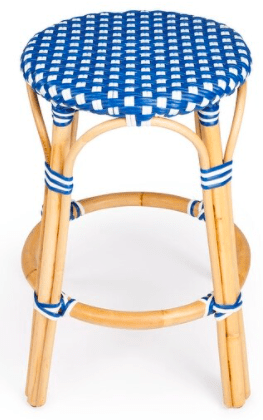 Modern Coastal Reclining Chaise Lounge
Menifee Reclining Chaise Lounge with Cushion (Set of 2)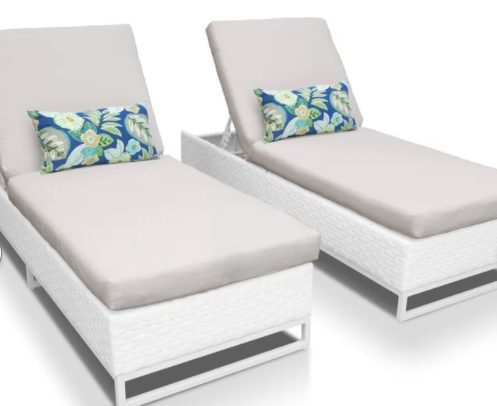 Justice 74" Long Reclining Chaise (Set of 4)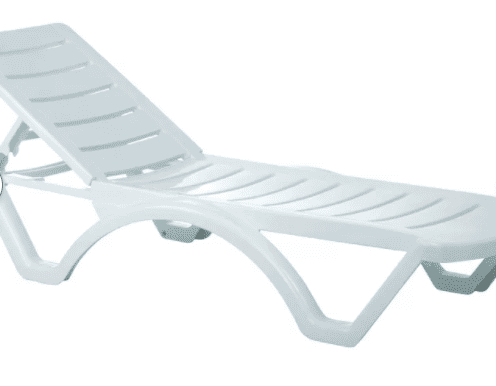 Polywood Nautical Reclining Chaise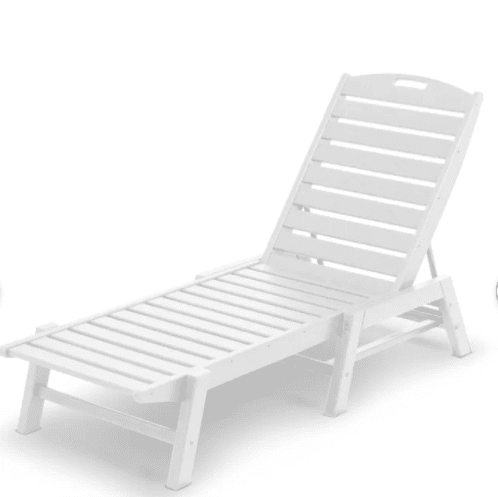 Modern Coastal Patio Furniture Sets
Menifee All Weather Wicker Rattan 5 Person Seating Group with Cushions

Menifee All Weather Wicker/Rattan 6 – Person Seating Group with Cushions

Menifee 3 Piece Seating Group with Cushions
In-Pool Chaise Lounge and Chairs
Terra Sol White Sonoma Pool Lounge vs Ledge Lounger Signature Chaise
Ever since we decided we were putting in a swimming pool, I've dreamed of the Ledge Lounger chaise pool chairs. But paying $700 for one of these is pretty steep!
I joined a few swimming pool build Facebook groups to get pool inspiration ideas and questions answered about building a pool. A few member suggested the Terra Sol White Sonoma Pool Lounge as a MUCH cheaper option than Ledge Lounger. The only caveat is you have to drill a hole in each of the loungers so that they sink on the tanning ledge. I bought two and I'm hoping for the best! I will keep you updated on the quality!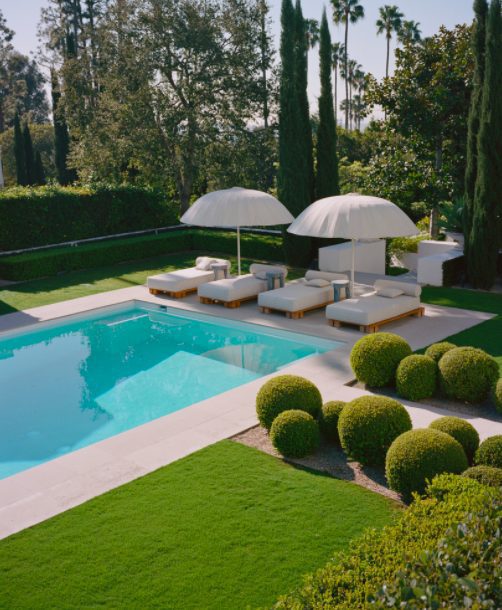 I can't wait to start purchasing items for our backyard and around the pool! Have you been looking for modern blue and white patio furniture online too? Found any great modern coastal items? Share with us in the comments!